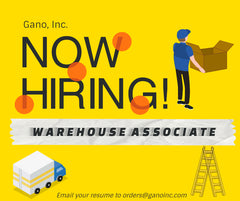 Gano Inc. is looking for an experienced team member to join the growing family in the warehouse operations department. The goal is to increase efficiency, profitability, customer satisfaction and foster the growth of the company.
Serious Inquiries only. 
Email your resume to: orders@ganoinc.com
RESPONSIBLITIES:
Complete shipments/local pick ups accordingly : Preparing rentals and/or orders by pulling, packing & placings orders in designated delivery area
Receive and process inventory: Accepting delivery of inventory, counting & confirming inventory. Storing inventory in accessible manner.
Perform inventory control and keeping quality standards high for audits: Inspecting inventory for damages & faults
Keep a clean and safe working environment & optimize space utilization (keeping shelves, pallet area & workstations neat)
Report any discrepancies
Communicate & cooperate with supervisors & coworkers
Operate & maintain preventively warehouse equipment (manual pallet jack)
Follow quality service standards & comply with procedures, rules & regulations.
DUTIES:
Prepare orders by pulling inventory, packing and placing in designated areas
Maintenance of rentals
Assist in assembling large ready-made corrugated boxes
Arrange products in an organized manner to avoid damage or premature wear and tear
Restocking store
REQUIREMENTS:
Experience in general laborer, preferable in warehouse
Proficient in basic math calculations
Familiarity with warehousing practices & methods
Good organizational and time management skills
Legible handwriting
Good moral character
Physically strong, agile & dexterous and undeterred by heights and adverse climatic conditions.
High School Degree or equivalent preferred.
Clean Driving record & valid Driver's License
Positive work history & ability to maintain solid attendance.
PHYSICAL DEMANDS & ABILITIES:
Regularly required to use hands to finger, handle or feel, reach with hands and arms and talk or hear
Regularly lift and/or move objects 10-50lbs. Occasionally lift and/or move objects that weigh more than 100 lbs.
Frequently required to stand, walk, stoop, kneel, crouch or crawl
Occasionally required to sit and climb or balance
Specific vision abilities required for this job include close vision, distance vision, color vision, peripheral vision, depth perception and ability to adjust and focus.
Hours: Monday through Friday; Starting at 9:00am to 5:00pm.
Wage: Determined on work experience. Starting $10-16
Job Type: Full-time
Pay: $10.00 - $16.00 per hour
COVID-19 considerations:
At this time, all customers are required to wear a mask in the store. Workstations are sanitized daily. All employees are currently vaccinated and encouraged to wear a mask while face to face contact with customers.